Regency Institute of Nursing invites applicants for Co-ordinators and Teaching Faculty for D.M.L.T, O.T and Dialysis Technician.
Admission Open for D.M.L.T. (Diploma in Medical Laboratory Technology).
Regency Institute organized an industrial visit for the students of G.N.M. & A.N.M. 1st Year at the Water Purification Plant, Benajhabar, Kanpur.
Regency Institute of Nursing organized Blind Center visit for the students of G.N.M. & A.N.M. 1st Year at the Blind Center, Nehru Nagar, Kanpur.
Regency Institute of Nursing organized Old Age Home visit for the students of G.N.M. 3rd Year at the Swaraj Old Age Home, Panki, Kanpur.
WORKSHOP & SEMINAR: Project "SHAKTI" was sponsored by Hindi news daily 'AAJ' which laid emphasis on women empowerment and taught our female student and faculty useful lessons in self defence..
As part of our Annual Educational tour, the 3rd year batch 2017-20, had an engaging trip to Jaipur in January, 2020.
A talk show and awareness for Women's rights and gender equality was organized at RIN as part of WOMEN'S DAY celebration on March 8, 2020.
RIN organized its first Annual Sports Day in March, 2020.The main goal was to lay stress on the physical well being alongwith competitive sportsman spirit of our students.
Welcome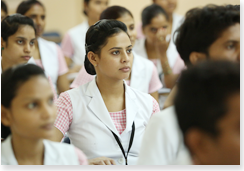 Nursing contributes to the healthcare delivery system in a vital and significant way. The nursing professionals deliver quality and compassionate care in a Hospital. They are the experts who provide better quality to human healthcare.
Regency Institute of Nursing has been established to overcome the inevitable demand of highly trained and qualified Nurses in the state of Uttar Pradesh and all across India.
The objective of Regency Institute of Nursing is to deliver the best in patient care and to develop a better platform of professional nursing.
Regency Institute of Nursing aims to create a benchmark of quality with the fusion of advance hi-tech infrastructure, qualified and experienced faculty of the Nursing institute and eminent and professional doctors of Regency Healthcare hospitals.
To provide skilled nursing staff for Regency Healthcare hospitals as well as other hospitals which employ the nurses trained in our Institute.
To qualify teachers who will be experts in theory as well as clinical knowledge, so that they can train the future lot of nurses in honing their skills.