The Graduation Ceremony for the G.N.M. Batch 2013-17 was held at Ganges Club on 8th April, 2017. The students were given their graduation scrolls. It was concluded with a short and sweet cultural programme.
The academic performance of the students of each year was recongnised by giving away the prizes. The 1st Prize for best academic performance has been given to SHASHI YADAV.
Johnson & Johnson held a lecture on the topic of "BREAST FEEDING" for the GNM students. They also had an interactive session to update the knowledge of the students.
The faculty of Regency School of Nursing along with the Internship batch of 2016 went for the school picnic on 23rd Dec, 2016.
The 7th Lamp Lighting Ceremony was held for the GNM batch of 2016-17 on 31st December in the school premises. It marked the induction of this batch into clinical training.
We are proud to announce that our students have achieved 98% result in the exam conducted by U.P. State Medical Faculty, Lucknow in August-2016.
Personality Development and English Improvement workshop initiated for First year and Internship nursing students.
Cafeteria facility has been available in the school.
Shortly coming up with a New School Building and additional courses.
SEMINAR: 1. A demonstration class was held on 27-06-2017. G.N.M. 3rd Year student's Priyanka Singh and Kalpana Verma demonstrated on Rylse Tube Insertion. It was shown on dummy along with the articles. The whole procedure is demonstrated step by step. 2. Second demonstration class was held on 30-06-2017. G.N.M. 2nd year student's Shivangi Saxena & Sonam Singh demonstrated on Comfort Devices. All comfort devices are shown to the 1st year students. All procedure feedback was good.
Regency School of Nursing welcomes the G.N.M. nursing students batch of 2017-18.
Welcome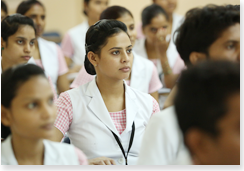 Nursing contributes to the healthcare delivery system in a vital and significant way. The nursing professionals deliver quality and compassionate care in a Hospital. They are the experts who provide better quality to human healthcare.
Regency School of Nursing has been established to overcome the inevitable demand of highly trained and qualified Nurses in the state of Uttar Pradesh and all across India.
• The objective of Regency School of Nursing is to deliver the best in patient care and to develop a better platform of professional nursing.
• Regency School of Nursing aims to create a benchmark of quality with the fusion of advance hi-tech infrastructure, qualified and experienced faculty of the Nursing school and eminent and professional doctors of Regency Healthcare hospitals.
• To provide skilled nursing staff for Regency Healthcare hospitals as well as other hospitals which employ the nurses trained in our Institute.
• To qualify teachers who will be experts in theory as well as clinical knowledge, so that they can train the future lot of nurses in honing their skills.